The Illinois Digital Newspaper Collections (IDNC) started 2020 with a fresh new look and a stack of extra features.
This digital collection from the University of Illinois at Urbana-Champaign includes 129 newspaper titles and more than 1.5 million pages. Beginning with an issue of the Sangamo Journal from 1831, researchers can dive into a diverse holding of newspapers spanning 180 years of Illinois state daily life and history.
A responsive, modern interface
The IDNC is presented on Veridian Software - a platform specifically designed for digital newspaper archives. The recent upgrade of the IDNC website has modernized its interface design, so it now sits comfortably alongside the main University of Illinois at Urbana-Champaign website.
The new IDNC site is also fully responsive - making it easier than ever to search and enjoy this rich resource across multiple devices.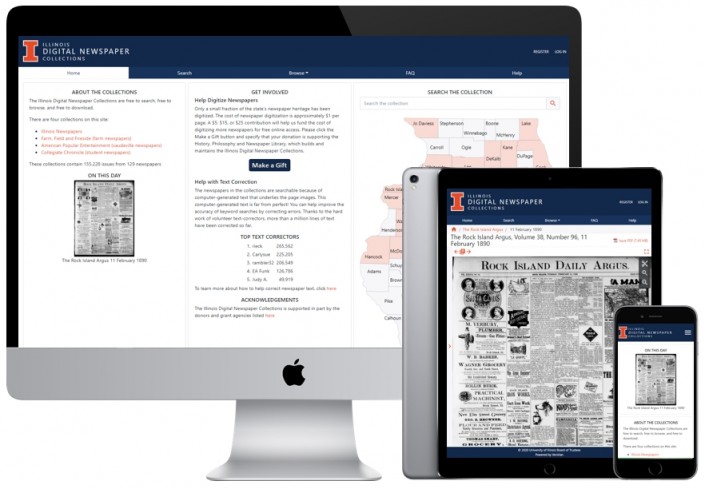 Shiny new features
A range of new features have been added to the IDNC as William Schlaack of the University's Preservation Services explains:
"Thanks to recent software updates provided by Veridian, the IDNC website now provides an updated look to support a variety of new and improved features. Veridian was amenable to the many feature requests we placed, ranging from an Illinois county browser on our home page, and giving users the ability to select how many search results they receive per page. In addition, the site is now more accessible for those who prefer browsing on their phone or tablet."
Privacy and Personal Data
Another new addition to the IDNC is a detailed Privacy Page so that users can learn all about how their personal data is managed and protected.
Improved Search
An advanced search feature allows searching within specific counties, dates, newspaper titles and collections.
When searching for a particular word or phrase, the search results now display a snippet of the original newspaper image. This provides context so you can check at a glance for relevance. For example a search for "Pierogi" yielded 223 image snippets, a couple of which are shown below: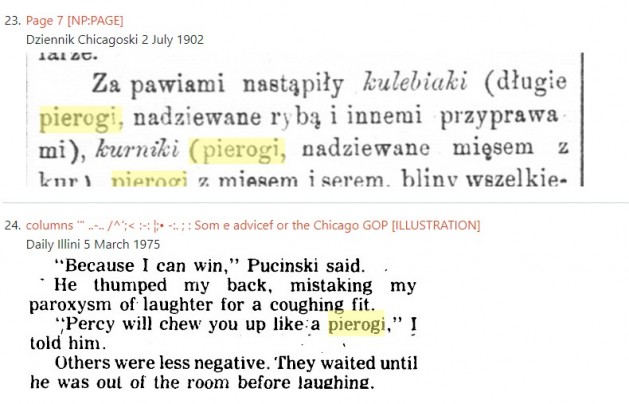 Enhanced User Text Correction (UTC) statistics
Many users of the IDNC already actively contribute to the collection through the User Text Correction (UTC) module. With the help of these users the "searchability" of the collection is gradually improved as OCR errors are corrected.
A new Enhanced UTC Statistics feature now allows text correctors to track how "complete" the text correction process is, and to provide some direction on which titles, issues, pages, or articles they should concentrate their efforts.
More to come - IIIF implementation
As a final step in the upgrade process the Veridian team will add International Image Interoperability Framework (IIIF) support to the IDNC.
IIIF presents significant advancements for collections of digital images. Once it is implemented for the IDNC, the collection will join a global network of image suppliers who work together to make content available in a common, 'interoperable' framework.
There are many benefits to the end-user too. They can easily access images from multiple collections around the world, creating far greater opportunities for comparison, interaction and dialogue. Images viewed via IIIF can be annotated, cited, shared with others, embedded into website pages and explored closely with deep zoom.
The future
With the IDNC refreshed and more usable than ever, we look forward to watching the collection engagement grow as more people delve into this treasure trove of local history.
William has noted a positive response to the recent changes already:
"These innovations will empower users to interact with and explore our collections. We have received a great deal of positive feedback from users, and look forward to continued work with Veridian."