New Zealand's Library of Record
Formed under statute, the National Library of New Zealand (NLNZ) is charged to "enrich the cultural and economic life of New Zealand and its interchanges with other nations."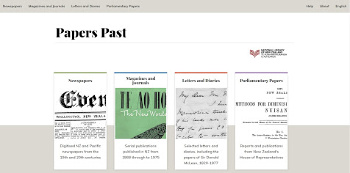 One key NLNZ project is the digitization and preservation of New Zealand newspapers. Their online collection of digitized newspapers called PAPERS PAST is their most popular website, and is responsible for more than half the combined traffic of all the NLNZ's websites.
Today it contains over 6 million digitized pages from more than 150 newspaper titles published in New Zealand between 1839 and 1950. PAPERS PAST receives more than 300,000 page views every day!
The Problem
Although NLNZ had presented their newspaper collection online for many years, and it was always a rich resource, the early PAPERS PAST collection lacked key features including full-text search, article-level access, and search term highlighting.
Satisfaction surveys conducted by NLNZ revealed the lack of search functionality as a major reason for dissatisfaction with PAPERS PAST amongst online patrons, and an online survey on the PAPERS PAST website revealed users had two key needs; for full-text search, and for even more newspapers to be added to the collection.
"PAPERS PAST was only digitized images, so using it was difficult. There was a lot of feedback from users who wanted better access."

TRACY POWELL, PROJECTS LEADER, INNOVATION CENTRE, NLNZ.
The Solution
To address these issues, NLNZ undertook a formal process in 2005/2006 to identify and appoint providers who could help improve access to the PAPERS PAST collection. This involved the use of Optical Character Recognition (OCR) software to extract searchable text from newspaper images, and the creation of a powerful but usable search interface that could be used on the PAPERS PAST website.
NLNZ selected Indian company Planman Consulting ITES to undertake the OCR processing and Veridian to provide the searchable interface. We leveraged our experience with the Greenstone open source digital library software to build the search platform. The extensive evolution of the system developed for PAPERS PAST led to what has now become the Veridian discovery and delivery platform.
The Outcome
The outcome of the project exceeded expectations, says Tracy.
"It has been a very successful project — usage of the service has increased exponentially. That's both because of a better user interface and the ability to search content."
She rates Veridian as a key contributor to that outcome.
"The Veridian support has been fabulous, they are good at listening to our needs and coming up with practical solutions. I'd rate their expertise very highly. "
The initial success of the project and ongoing improvements to the Veridian platform meant NLNZ were able to move ahead with digitizing millions more newspaper pages over the ensuing years. Their ultimate intention is to digitize their entire collection and make it available from PAPERS PAST.