Is Veridian suitable for other digitized material, aside from newspapers?
Veridian software was initially designed for large scale newspaper digitization projects. We decided to focus on this niche in order to develop the very best solution for these very large and complex collections.
As knowledge of Veridian has grown, we're often asked if it can also be used as digital collection management software for other types of collections. The answer is yes!
Veridian can support online search, discovery and delivery of collections with almost any type of material, including books, magazines, journals, newspapers, photographs, maps, audio, video, archives, and more.
Explore some Veridian based archive collections
We've worked on a diverse range of digitization projects which preserve important and fragile archival material.
Here are some projects successfully using Veridian for material other than newspapers: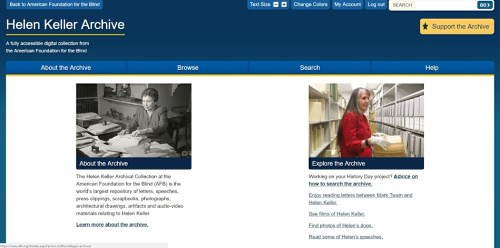 The Helen Keller Archival Collection at the American Foundation for the Blind (AFB) is the world's largest repository of letters, speeches, press clippings, scrapbooks, photographs, architectural drawings, artifacts and audio-video materials relating to Helen Keller.
What's special about this project is that the digital collection is accessible to visitors who are blind, deaf, hard-of-hearing and deafblind. To enable this, the Veridian team developed a range of accessibility functions for the platform including text zoom, color conversion, keyboard commands and braille convertibility.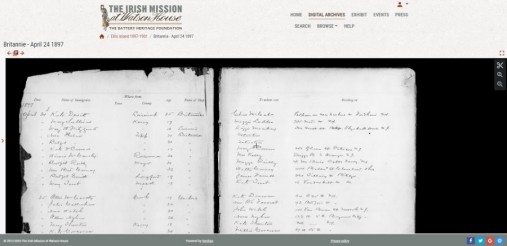 This archive includes a collection of digitized and transcribed handwritten shipping/immigration records from 1883-1954. These fully searchable records preserve the efforts of those who created the Irish Mission for Immigrant Girls in New York City.
The Clarke Historical Library at Central Michigan University holds a large body of material documenting the history of Michigan. Many fragile items have been digitally preserved in this collection including the Hemingway family scrapbooks. These contain precious original family sepia-silver print photographs, correspondence, art, and ephemera.
How Veridian features can help bring archives to life
Our platform has many features which help bring archival content to life and provide opportunities for an audience to engage with it. Some of these include:
Robust browsing and searching capabilities

International Image Interoperability Framework (IIIF) support

Customized presentation. Every Veridian project comes with branding and customization unique to the owner of the collection.

Unique crowdsourcing, patron engagement, and social media features. Veridian is the only discovery and delivery platform to incorporate OCR User Text Correction (UTC).

Responsive design. Veridian collections can be viewed from all modern desktop and mobile platforms and web browsers.

Removing barriers which prevent access by people with disabilities. Veridian software complies with web accessibility guidelines.
Here is a more comprehensive list of Veridian features.

If you have an archive you'd like to discuss preserving online get in touch.